Inge Löök's Merry Aunties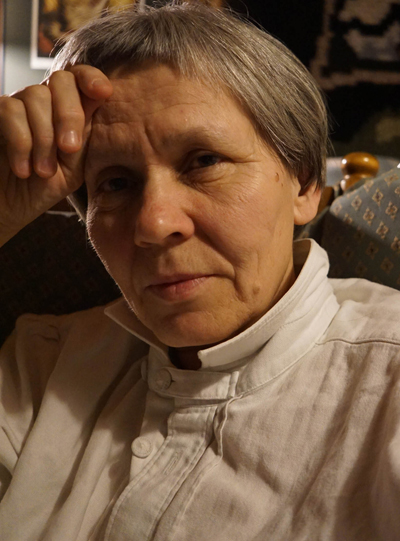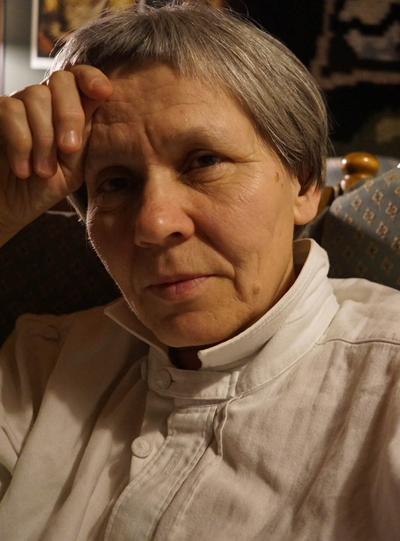 It was in the mid-70s that Inge Löök started working both as a graphic artist and as a gardener. At the same time, she started illustrating books and other printed material as a freelancer for various employers. Today, she feels that her drawing requires the gardening tasks to balance her every day life. When it rains and it's dark outside it feels fine to stay inside, but not when the sun shines and it's warm. Everything in life is about balance. It's a great joy and fortune to do what one really enjoys.
On nature
Nature is of immense importance to Inge Löök. During long periods of time she sits and watches, with her binoculars, how a spider systematically knits its web. Simultaneously, she gives great thought to all kinds of things, for instance to how we humans place ourselves in relation to nature. For example, we often speak of weeds and harmful insects, but how would these name us?
On the aunties
Inge Löök drew the first four images of the aunties in 2003. These illustrations were intended as Valentine's Day cards, but unexpectedly, the season became quite long. "I couldn't understand why the cards became so popular and I still have a hard time understanding why two toothless and not so attractive old aunties have become this cherished. With my illustrations, I prefer to explore the inner world of the aunties, as opposed to their outer shell. I prefer to stay with the aunties in the small moments, which they share so well", Inge Löök explains.
On inspiration
Together with her neighbour, Inge Löök has had wine in the tree, they have sailed with a parasol and they have had a picnic under the table. Most of the adventures of the aunties that Inge Löök has drawn show what she in real life has experienced with her neighbour.
On life
As a child, if one didn't have a best friend, the greatest wish was to get one because then anything would be possible. Two best friends could work each other up to the most peculiar adventures and suddenly, the two friends would find themselves in a magical world. Fantasy and curiosity are among the most sophisticated spices, which should be used daily, and throughout life regardless of one's age.
On cats
The cats Inge Löök has drawn are either her own, those of her friends or then they are stray cats which she has taken care of.
On Christmas elves
Inge Löök's heart beats warmly for Christmas elves. A winter morning when Inge Löök was eight years old, she saw a group of elves. The elves were about half a meter high and they had a particular way of communicating with each other. These are the elves we see on her Christmas cards.
On men
"There's a reason for why I don't draw men in similar situations to those of the aunties. The true friendship between men, which is something you must feel deep inside, is something I can't get to. I'll never be allowed into such a mental space. The task of drawing friendship between men is something I will have to pass on to someone who's got the key to that secret", Inge Löök says.